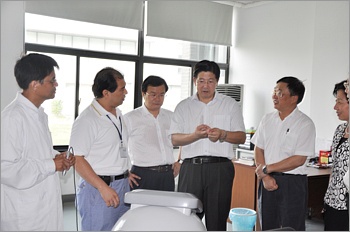 On the afternoon of august 25th, Jiang Hongkun who is the executive member of CPC Jiangsu Provincial Committee and the CPC suzhou municipal committee secretary took a visit to suzhou institute of biomedical engineering and technology with the company of Wang Shaodong, the secretary-general.
Jiang visited the Medical imaging lab, Medical spectrum lab and Medical laser lab. He asked the details about some new products and had a discussion with the technicians.
After known about the progress on scientific research development, base building and other aspects of the institute since the start of the constructing work, Jiang point out that the biomedical engineering was the hot area over all of the world and the competition was very serious. He hoped the institute should made enough use of the good environment and resource, try the best to do well in the research and industrialization.