Recently, the neuroprosthesis group from the Rehabilitation Engineering Laboratory of Suzhou Institute of Biomedical Engineering and Technology (SIBET) participated in the "Sino-Swiss Dialogue on CYBATHLON and Assistive Technologies" at the invitation of the Swiss Embassy in China.
The CYBATHLON (International Cyborg Bionic Olympics) was co-sponsored by Nankai University, ETH Zurich, and the Swiss Embassy in China. CYBATHLON is a large-scale international disability rehabilitation competition organized by ETH Zurich, Switzerland, which aims to encourage and support global research teams to develop assistive technologies suitable for everyday use by people with disabilities.
The youth team of SIBET participated in the CYBATHLON Challenge in March 2023 and won the championship as the only upper limb prosthetic team in China. The team has been devoting themselves developing intelligent neuroprosthetic hand based on force-tactile perception and feedback, focusing on the motor function reconstruction technology and perceptual compensatory feedback technology, so as to solve the current technical bottleneck of low robustness of prosthetic hand control and weak multimodal information feedback.
"The invitation to participate in the exchange of intelligent assistive technology is an affirmation and encouragement of the team's scientific research," said HU Xuhui who led the team.
HU said that they will continue to conduct in-depth research on the reconstruction of the motor perception function of the neural prosthetic hand, and translate the technical achievements into the actual needs of the amputee disabled group as soon as possible.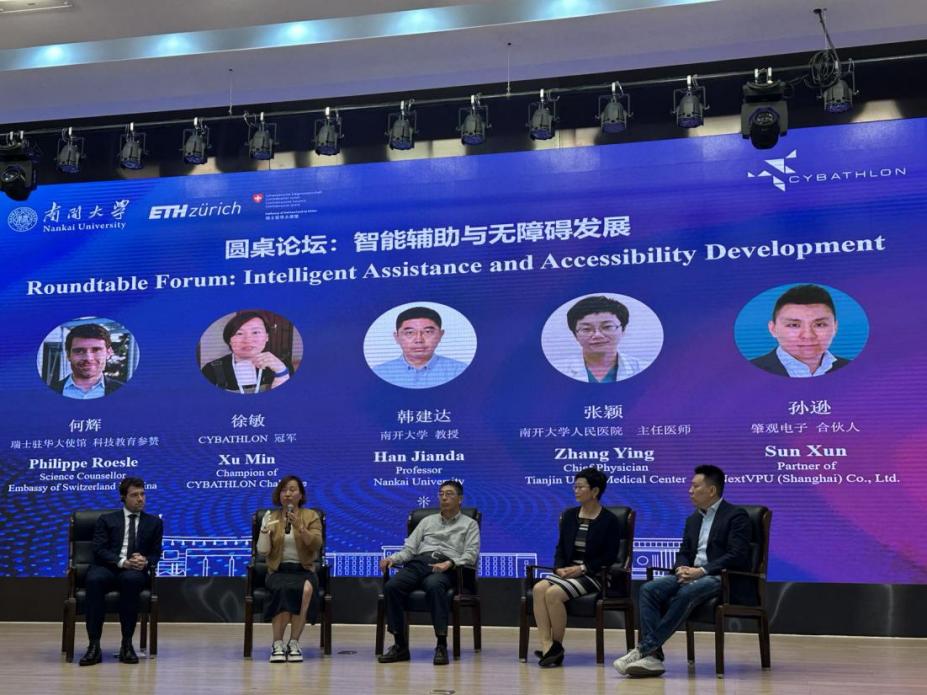 Xu Min (the second from left) in the Roundtable Forum
After the meeting, the team was invited to the Embassy of Switzerland in Beijing to participate in the demonstration and communication of intelligent assistance and accessibility technology. Swiss Ambassador to China Jürg Burri, the Counsellor for Science, Technology and Education Philippe Roesle, and the Deputy Counsellor Medea Fux attended the meeting.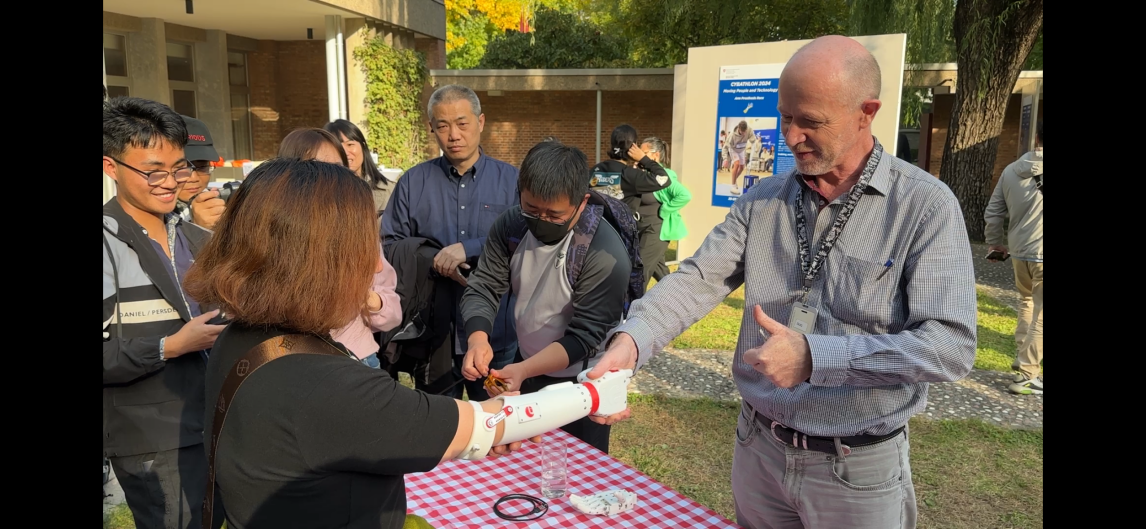 Prosthetic limb display site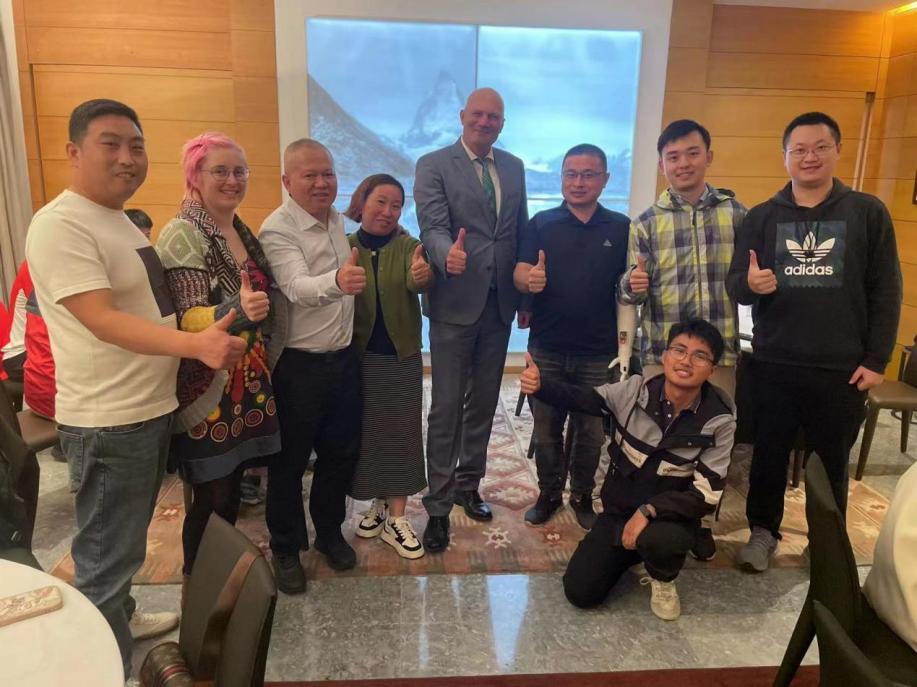 Team members with Deputy Counsellor Medea Fux (Second from left) and Swiss Ambassador to China Jürg Burri (fifth from left) at the Embassy residence.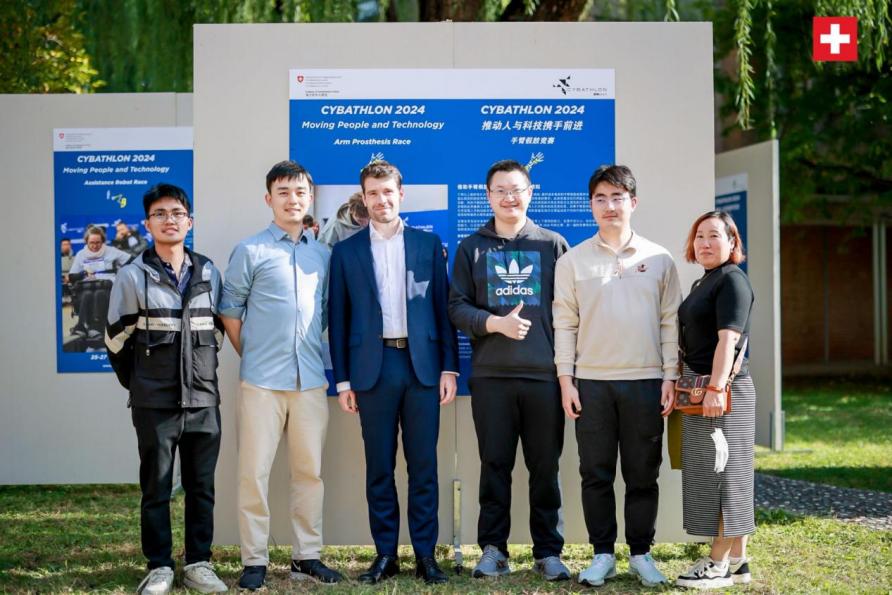 Team members with Philippe Roesle (third from left), Counsellor for Science and Technology Education of the Swiss Embassy in China, at the Embassy's exhibition site
The SIBET Rehabilitation Engineering Laboratory focuses on the clinical needs of helping people with functional deficiencies to maximize their ability to live, work and return to society independently. Main research directions of the laboratory include human vital signs detection, motor and cognitive dysfunction rehabilitation, scenario-based intervention rehabilitation therapy.
(Media : http://french.china.org.cn/china/txt/2023-10/26/content_116776703.htm)