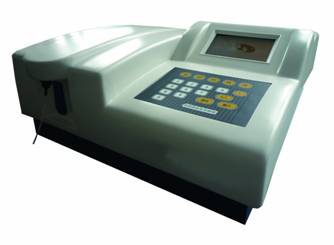 Product Features
The instrument's grating self-developed semi-automatic biochemical analyzer, with independent intellectual property rights, access to two patents. Since 2007, annual dividend as the assessment of China Medical Equipment Association recommended selection of products, and procurement activities in the country many times larger tender bid.
Applications
Current projects can be carried out more than 100 kinds of chemical and biological testing, liver function, renal function, blood glucose, blood lipids, heart testing, ion and other biochemical markers. The use of low cost, high return, is more suitable for primary health care institutions.
Specifications
Light source: 12V/20W
Wavelength: From 300~800 nm, free to choose
Spectral band width: 6nm
Linearity range: 0.000~3.000 Abs.
Measuring: 32ul flow cell
Sample volume: 0~9999ul
Temperature control: 25℃, 30℃, 37℃, controlled by Peltier element
Test mode: End Point, Kinetics, Fixed-time, Bichromatic, Differential, Modulus test, Multi-standard
Delay & Reading time: Programmable, 0~999 seconds.
QC: QC results stored in memory automatically, QC plot printable
Memory: 150 Programs
Display: Large LCD with back light
Printing: Built-in Thermo printer.
Power failure protection: Test results can be recalled and printed out when power failure
Communication: With RS232 enables test results transferred from Analyzer to PC; Analyzer software on-line upgrading function.
Power supply: 220V/110V±10%, 50/60Hz
Power consumption: 160W
Temperature: 0~40℃
Humidity: ≤ 85%
Dimension: 460mm×400mm×210mm (L×W×H)
Weight: 8.8Kg
Innovative content
Grating spectroscopy, arbitrary choice of wavelength range, optical performance, long life, high resolution. The new plastic shape, large-screen high-brightness LCD backlighting. 全Chinese menu, Chinese character display tips. With power protection and automatic timing functions, man-machine dialogue, reagent open.